Northern Michigan Trout & Salmon Fishing at its Best!
Watta Bite Charter Fishing operates in beautiful Sleeping Bear Dunes area,
launching from Glen Arbor, Michigan * Call Captain Bill at (231) 409-0963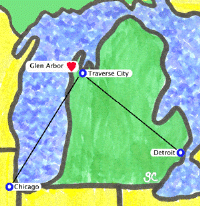 Map courtesy of Stablegirl Cindy

Driving Directions
Please Note: The directions provided by Mapquest are not correct.
Follow Mapquest directions up until the point you are directed to turn off of S. Lake Street.
Stay on Lake Street until you come to Lake Michigan.
Watta Testimonial!
Thank you for sending us email regarding your Watta Bite Charter experiences.
We love to hear from you!

Join us on Facebook!


To make Watta Bite Charter Fishing Reservations call:
Captain Bill Winowiecki at
(231) 409-0963




MasterCard and VISA
Now Accepted!